This week I decided to blog about Marco's 5th birthday so I can finally be up to date with his celebrations and all the DIY that I created for his parties.
This time was all about Legos. Well, kinda. Because like 4 days before he started saying that he wanted an "army theme" for his birthday. And I was like "There's no way we're changing your birthday party theme". But this is how I resolved that: with a one dollar "lego" tank that I found on the dollar tree store and I used on top of his mini cake (the one that we have at home).
The celebration at home was very simple this time. I just added some balloons, the mini cake and some party hats. It was a weekday and he had to be at school by 7:30am so… Not a lot of time!
But we celebrated with a little party with his friends the day after, and it was so much fun!
First, let me share with you the invitations that I created using some Modern Calligraphy with actual pen and ink and then digitized with Photoshop and some single line lego bricks illustrations.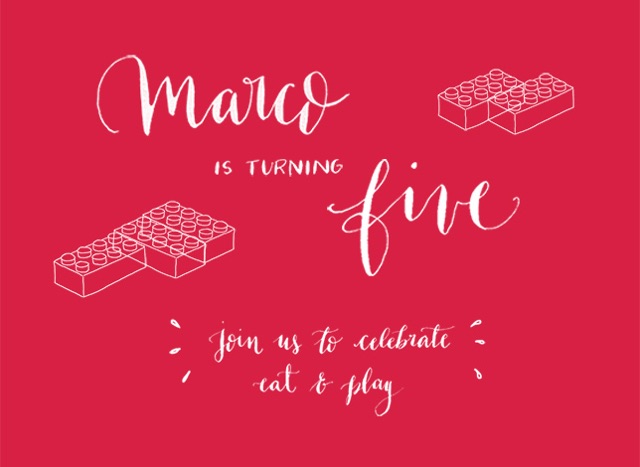 Now let's talk about the most important part of any birthday celebration. The cake. Of course 😛
I used this recipe again but this time I filled my cake using an Argentinean dulce de leche. Simple but oh oh oh, out of this world.
If you're using Dulce de Leche to fill to a cake, be sure to get a "repostero" one which is thicker and won't melt in your cake. It's a special Dulce de Leche for patisserie.
I covered it with this chocolate ganache and some chocolate sprinkles that I got at a Brazilian place where I bought everything to do brigadeiros… But that's another story.
Since it was all lego themed, I played with some old duplos that we didn't use and built some stuff for decor.
Then of course, my little kid has an Argentiniean mom so… Chipas and Empanadas were part of the menu! Get my chipa recipe here.
Some fast, almost last-minute signs for the food with brush lettering.
I used the same colors all the time, red, green and blue.
I found some lego figurines on Amazon that I added for his party favors and used a free template of a lego background, then used the same digitized calligraphy on top and that was the "card" for the party favors on paper bags.
Finally, I created a chalkboard sign (the night before!) for his cake table.
It was such a special moment for all of us! He had a great time with his buddies and I was as happy as I could be watching my kid grow to be 5 years old and enjoying so much his special day!
That's it for this week folks! See you next week with no more birthday reviews for a while! Haha! Have fun!